Holy Schmoly! I don't even want to look at the last date that I posted on my poor neglected blog. So I won't if that's okay with you...
I love to upcycle. My spell check is telling me that upcycle isn't even a real word, but I think we should vote it in. Who's with me? I am somewhat obsessed with old CD's/DVD's and what the hell to do with them when we don't need them anymore. Here's something...
And the flip side...
I painted an old CD with acrylic paint-specifically Martha Stewart's line. I knew for sure that her paint would work on the CD material. After using Mod Podge to adhere the pictures, I added some sparkle with glue and glitter.
I punched a hole through the top with my Crop -A- Dile. Yes, I found yet another form of matter that that thing will punch through...I should make a list.
She is hanging (or should I say they are?) in my craft space very happily from the ceiling spinning slowly in the breeze.
A much better alternative to the garbage, yes?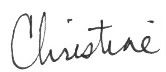 Pin It