Hi. I'm Christine. And I may or may not have a problem (depending on how you look at it). I hoard
collect glass jars. When I stroll through craft stores and see organizers for sale, I walk right on by.
Why? Because there is a perfectly good pile of glass jars in my garage just waiting to be filled.
And yes, I need
all
of those brushes, thank you. I've been pretty good about keeping them in this one jar for a while, so I thought I'd print up this image of brushes from
The Graphics Fairy
.
Before. Blah.
I printed it out and cropped it...
Inked the edges--much better. Mod Podged the picture onto the jar...
Clearly, this is where the brushes belong.
It's like a little recycled Graphics Fairy community in my studio.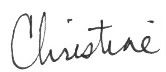 Pin It